« Collectors | Main | I am still in the Kindergarten Club »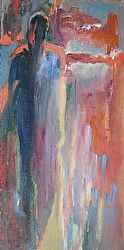 Be open to the process, "She's A Lady" was a gift for my from my subconscious. Making good art fills my days with appreciation.
"And in the end, it's not the years in your life that count. It's the life in your years." ~Abraham Lincoln
Being an artist painting for galleries and cruising shows to showcase the latest works is so rewarding. I have the best job. It took a long time to feel confident, a lot of personal self depricating agony, late nights worrying about why a piece would not work, but now that I have gotten older and wiser and make each day count, it is a happier time. One thing that age gives us is the ability to take it easy on yourself, make priorities and enjoy the process without putting pressure on the outcome. The outcome will get there, a painting has a life cycle just like a garden. It takes patience and letting go of circumstances that may deter growth and harvest. Mistakes happy accidents come as an opportunity to use toward a better result. The life is what is the reward, a creative daily appreciation.
Comments