These intuitve works are done out of my mind! All inspiration, color and imagination from the impressions of the color I see out in the world. Viewers often see things in them that respond a reaction of something that they feel or know. I am strictly feeling the oil paint, color and shape to complete something fascinating! I say "I paint the paint," the palette knife allows oil paint to improve in richness and texture. These paintings are being sold in galleries which represent my work and similar paintings are being created for upcoming shows.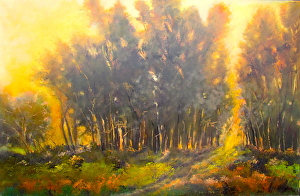 These works were inspired from my world of landscape, from outside doing 'en plein air' sketches/studies first, then taken into the studio to complete! I often do commissions for this genre of landscape paintings.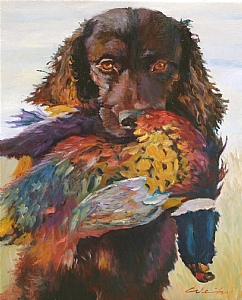 This catagory is about the small paintings I have done out in the field 'en plein air' and in my studio for fun! They are for sale in my studios. I also do dog paintings for commission only. 
This collection represents the more abstracted versions of my studio landscape work. I use either a palette knife shaped like a cake knife, complimented with brushes. With this tool, I can layer and glaze for more intense or controlled color. These works are represented by galleries and some can be seen in my working studio. Some in this series are inspirational pieces from a 2011 art exchange in Cuba.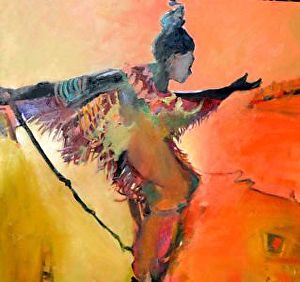 These were done in early 2000-2006. Very colorful expressions of figures.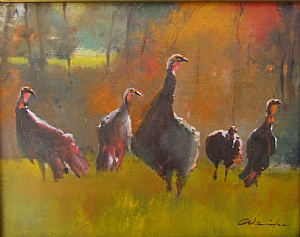 These archived paintings are offered with a very limited availability. Please contact me for a "Custom Order" by size. Price is determined by size. Click on this image to view more details about ordering!
Choose CANVAS, gallery wrapped over stretcher bars, ready to be hung like the original painting
OR PAPER prints to be framed under glass.
This limited edition print can be purchased from the artist. Call or e mail the artist for orders:
karen@weihs.com or 828/226-4024
Any image that has not been previously sold on this site can be archived for printing limited editions by special order.
Canvas can be printed with the images offered here up to 54 inches. Paper prints for the same images offered here are under 20 inches. Shipping included by Fed Ex. Prices reflect size.
Canvas: (Price for a 10x12= approx $150, price go up per size) Archival Museum Canvas
Paper: (Price for a 20x20= approx $375, price goes down per size)
Each paper print is reproduced with a 5" border.
Hahnemuhle Photo Rag Specifications This mould-made Inkjet natural line 100% Rag. Photo Rag is a single side coated, traditional fine art media. Made in the Hahnemuhle Paper Mill (since 1584), the surface Inkjet coating is a special matte coating, designed for high quality digital fine art re-production and print applications on Inkjet plotters and printers.The printed side of this paper has been specially coated to offer excellent image sharpness, optimal colour gradation. It still offers the esthetical view accustomed with Traditional Fine Art Papers. The coating also offers a very high level of water resistance.The Hahnemühle paper, Photo Rag has been tested at the renowned Wilhelm Imaging Research Institute Inc. Over a simulated test period of 200 years no appreciable change in the whiteness of the paper was detected.